FLOTUS Love: Nancy Reagan
Former First Lady Nancy Reagan died today at the age of 94 of apparent heart failure. She was First Lady of the United States from 1981 - 1989 as well as a Hollywood actress in the 1940s & 1950s. Who else do you know can mix those two careers so seamlessly and graciously? Nancy championed and created the slogan "Just Say No" to discourage children from partaking in illegal drugs. Those 3 words changed our nation greatly by no doubt saving millions of lives. She was the first First Lady to have a bilateral meeting with a Pope on the abuse of drugs and possible solutions. Talk about devotion!
Also, did you all ever notice just how fashionable she was? She was known for her simple and elegant style, wearing designers like James Galanos and Carolina Herrera, and "never making a single faux pas," according to Oscar de la Renta. These are my all time favorite Nancy Reagan looks.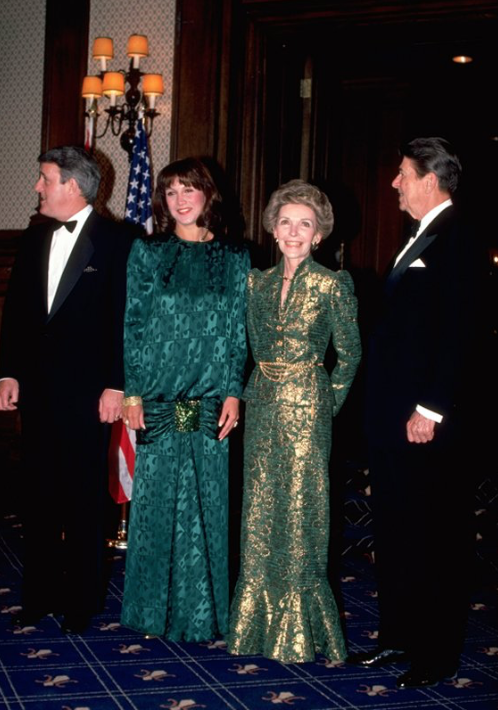 1. Photo: ullstein bild; 2. Photo: © Corbis. All Rights Reserved; 3. Photo: Tim Graham; 4. Photo: Reagan.utexas.edu; 5. Ron Galella, Ltd./1993 Ron Galella, Ltd.; 6. Photo: Wally McNamee/© Corbis. All Rights Reserved; 7. Photo: Afp/ Getty Images; 8. Photo: Jim Smeal / WireImage / Getty Images; 9. Courtesy of Ronald Regan Presidential Library; 10. Photo: Diana Walker / Time Life Pictures / Getty Images; 11. Photo: Diana Walker / Time Life Pictures / Getty Images; 12. Photo: Diana Walker / Time Life Pictures / Getty Images; 13. Diana Walker / Time Life Pictures / Getty Images; 14. Photo: Reagan.utexas.edu; 15. Photo: Reagan.utexas.edu; 16. Photo: Reagan.utexas.edu; 17. Photo: Reagan.utexas.edu